Preserving the Past: Properly Framing Historical Artwork for Long-Term Preservation
Archival framing is a technique that uses acid-free materials and UV-resistant glass to protect the artwork from fading, yellowing, or deteriorating over time. Cassens Fine Art frame shop is committed to providing its customers with the best archival framing services. In this blog post, we will discuss how Cassens Fine Art frame shop uses archival framing to frame two Carl Rungius etchings using acid-free foam core, museum glass, and rag mat mat board
Carl Rungius (1869-1959) was a pioneer in the portrayal of North American wildlife in art. His love and appreciation for nature were evident from an early age when he spent his childhood exploring the forests and mountains of Germany, hunting and sketching the animals he encountered. He had an eye for detail and was fascinated by the form, movement, and character of the creatures he encountered, which became the foundation of his artistic style.
Rungius's passion for wildlife and art led him to pursue formal training in art in Germany. After completing his studies, he decided to immigrate to the United States in 1894 to further his artistic career. Settling in New York City, he quickly gained recognition for his paintings of wild game. Rungius's art was characterized by his attention to detail, his ability to capture the essence of each animal, and his use of light and shadow to create a sense of depth and movement. His unique style and talent led to him becoming one of the most respected wildlife artists of his time.
Throughout his career, Rungius's artwork was exhibited in some of the most prestigious galleries and museums across the United States. His paintings and etchings were highly sought after by collectors, and today they are regarded as important works in the field of wildlife art.
The etchings that Cassens Fine Art frame shop is preserving are a testament to Rungius's talent and dedication to the portrayal of wildlife in art, ensuring that his legacy will be preserved for generations to come.
Join us behind the scenes as we preserve these precious Carl Rungius etchings at Cassens Fine Art frame shop. Our step-by-step process ensures that the etchings are protected for generations to come, using only the highest quality materials and expertise in the art of archival framing.
STEP 1: CHOOSING THE RIGHT MAT BOARD
The first step in archival framing is to choose the right mat board. Cassens Fine Art frame shop uses Rag mat mat board for its archival framing services. Rag mat is a type of mat board made from 100% cotton fibers that are acid-free, lignin-free, and pH-neutral. This type of mat board ensures that the etchings do not come into contact with any acidic materials that may cause them to deteriorate over time.
STEP 2: MOUNTING THE ETCHINGS ON ACID-FREE FOAM CORE
The next step in the archival framing process is to mount the etchings on acid-free foam core. Acid-free foam core is made from a polystyrene foam core that is covered with acid-free paper on both sides. This material is lightweight and provides a sturdy backing for the etchings. Once the foam core is cut to size, the etchings are hinged onto it using acid-free tape. This process ensures that the etchings are mounted securely without any risk of damage. By using archival materials, such as acid-free foam core and tape, Cassens Fine Art frame shop ensures that the etchings will be protected for years to come.
Step 3: Choosing the Right Frame
Choosing the right frame is crucial when it comes to archival framing. Cassens Fine Art frame shop opts for sturdy and visually appealing solid wood frames that are carefully chosen to complement etchings and enhance their aesthetic appeal. Gold frames have been a popular choice throughout history, particularly in ancient civilizations, the Renaissance period, and the 19th and 20th centuries, as they add elegance and sophistication to artwork. Today, gold frames continue to be a popular choice for many types of artwork, including etchings. The choice of gold frame should be based on the style of the artwork to ensure it complements and enhances its unique qualities.
Step 4: Adding Museum Glass
The final step in the archival framing process is to add museum glass to the frame. Museum glass is a specialized type of glass that is designed to protect artwork from harmful UV rays that can cause fading and deterioration. The use of museum glass is essential to ensure the longevity of the etchings as it provides the ultimate protection against environmental damage. The anti-reflective coating on museum glass reduces glare and enhances visibility, making it easier to see the etchings from different angles and in various lighting conditions. This specialized glass is an essential component of archival framing, and Cassens Fine Art frame shop uses only the highest quality museum glass to protect their client's artwork.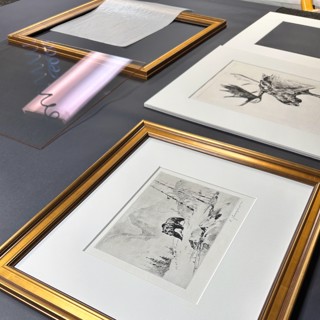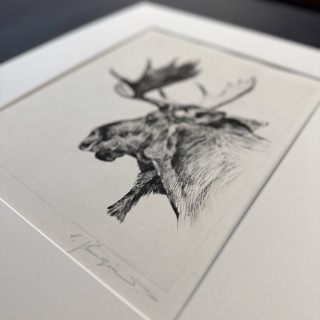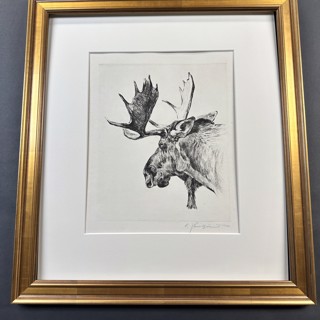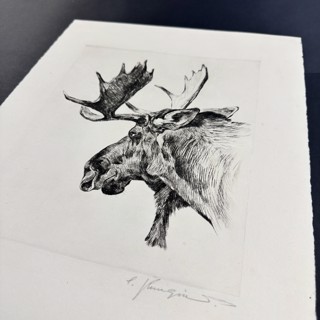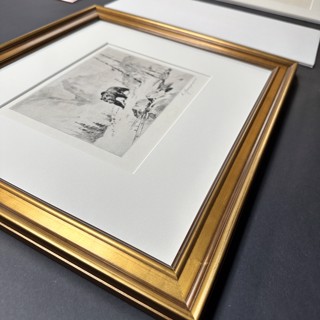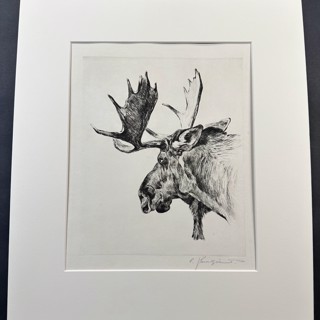 The art of framing is just as important as the artwork itself. A well-executed framing job can elevate a piece of art, while a poor one can detract from its beauty. Archival framing, in particular, is an essential technique for preserving precious artwork like the Carl Rungius etchings.
Cassens Fine Art frame shop's commitment to using only the highest quality materials, such as acid-free foam core, museum glass, and Rag mat mat board, ensures that these etchings are not only protected but also beautifully presented.
From choosing the right frame to cutting mats with precision and accuracy, every step of the process is carefully considered to ensure the artwork is displayed to its full potential. If you want to ensure that your artwork is protected and preserved for generations to come, look no further than Cassens Fine Art frame shop. Their expertise and attention to detail will provide you with a stunning and lasting display that you can enjoy for years to come.