Unveiling the Essence of Wildlife: Bailey Burton's "True to Life" Exhibition at Cassens Fine Art
Prepare to be captivated by the enchanting world of wildlife through the exceptional work of artist Bailey Burton!
Bailey Burton is a devoted wildlife artist with a passion for capturing the true essence of each animal she portrays. For her, painting transcends mere visual representation; it involves unveiling the soul and character of the animal, forging a lifelike connection between humans and wildlife through the tranquility of realism. Bailey's artistic journey has centered around the exploration of painting wildlife, culminating in a collection of emotionally impactful and true-to-life paintings.
"True to Life" features a selection of Bailey Burton's awe-inspiring oil paintings, each exemplifying her dedication to meticulously rendering each figure. Her labor-intensive process demands countless hours of crafting and refining each piece, applying layers of detail and toning glazes.
Bailey's art delves deeper than the mere visual representation of animals, exploring their soul and character to establish a lifelike connection with the viewer through the serenity of realism. She firmly believes the magic of her work lies within the eyes of her subjects, where the soul comes to life and sparks an intimate connection. Her portraits are richly detailed, saturated, and bathed in light, eliciting feelings of empathy, joy, and awe.
Michelle Cassens, the owner of Cassens Fine Art, expresses her enthusiasm for the exhibition: "We are immensely thrilled to welcome the accomplished Bailey Burton and her solo show, 'True to Life,' to Cassens Fine Art. Her adeptness in capturing the essence and emotion of wildlife through her realistic oil paintings is genuinely remarkable."

We invite you to join us at Cassens Fine Art to experience Bailey Burton's "True to Life" exhibition and immerse yourself in the beauty of her work, which masterfully captures the soul and emotions of wildlife through her realistic oil painting style. This event provides an opportunity to connect with the art, the artist, and the quintessence of the natural world.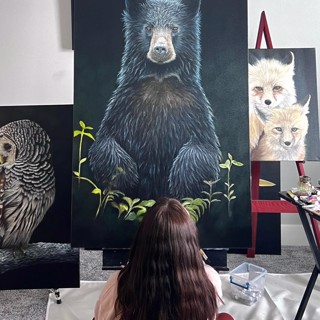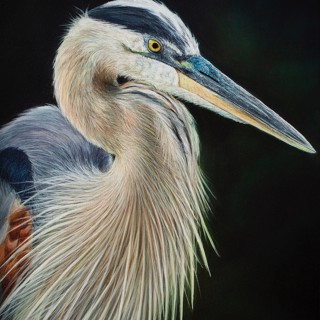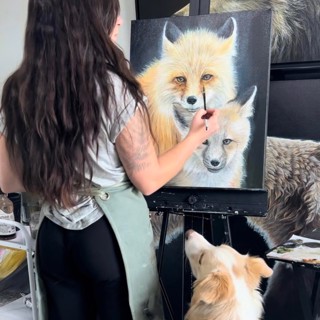 In November 2020, Bailey and her husband relocated to Great Falls, Montana. As Bailey neared the completion of her degree from Michigan State, she began contemplating a career in fisheries management. However, her perspective shifted when she attended the prestigious Western Art Week in March 2021 with her husband. Although she hadn't picked up a paintbrush during her five years at college, the art show inspired her to revisit her passion for painting.
Reconnecting with the canvas brought back fond memories of Bailey's high school days, when art was her favorite pastime. She immersed herself in art classes and often skipped other classes to work on her projects, with her art teacher turning a blind eye. She and a close friend discovered the joy of acrylic painting and transformed an old shed into their personal "she shed" studio. Although they loved creating art, pursuing it as a career seemed unrealistic to Bailey at the time. However, moving to Montana would soon change her perspective.
Bailey's first completed artwork in Montana was a monochromatic bison in the snow, which also became her first sold painting. Captivated by the experience, she continued to create wildlife-themed acrylic paintings, improving her skills with each piece. By July, she had a small collection of work and decided to sell prints at her local farmer's market. There, an older man, impressed by her talent, introduced her to a significant art show called Legends West, which was part of the same Western Art Week that had sparked her renewed interest in painting.
In September that year, Bailey transitioned from acrylics to oil paints, which elevated her artistic abilities. She was amazed by the smoothness and blendability of oil paints and appreciated their forgiving nature. The techniques she developed with acrylics translated well to oil painting, and she refined her process by layering opaque details and glazes. Now, just over two years into her art career, Bailey reflects on the transformative impact of Montana on her life.
The opportunity to be an artist in the West seemed unimaginable to her back in Michigan. Bailey shares, "If you'd asked me at the start of 2021 what I was going to do with my life, I was dead set on getting a job as a fish technician with FWP. Becoming an artist wasn't even on my radar. It seems that art found me and decided not to let me go this time."
The Artist Reception:
Seize the opportunity to meet Bailey Burton in person at the Artist Reception on Friday, April 7th, from 5-7 PM. This exclusive event offers guests the chance to engage with Bailey about her work, inspirations, and artistic journey. To enhance the reception experience, enjoy delectable food from Seppi's Market and sample exquisite wine from Jessi's.